National History Day



The East Tennessee Historical Society sponsors National History Day competition for the East Tennessee District.
National History Day (NHD) is an academic program for students, grades 6-12. Students select a topic, conduct extensive primary and secondary research, and analyze and interpret their conclusions. They can choose to present their work through a Web site, exhibit, performance, documentary, or original paper. The contest begins at school level, with winners advancing to state and then to nationals. Teachers and sponsors involve students in NHD participation through school and system-wide competitions, history clubs, home school co-ops, and family groups.
An independent, national evaluation finds that NHD students perform better in a variety of skills important to life and employment success.
East Tennessee History Day

As the originator and coordinator of the East Tennessee District competition, the East Tennessee Historical Society advises and mentors teachers and students through all phases of the competition, from school to nationals.  ETHS also is available to consult with teachers and schools on how to incorporate NHD into your curriculum. 
The annual East Tennessee District competition takes place in March of each year at the University of Tennessee and is co-sponsored by ETHS and the University of Tennessee History Department.
This year's competition was held on March 4, 2016 at the University of Tennessee Conference Center. The theme for NHD is Exploration, Encounter & Exchange in History. For more detailed information on this year's competition and registration, please check out the East Tennessee History Day website. For online NHD teacher resources, please go to TeachTNHistory.org. 
Check out our 2016 list of winners!
Tennessee History Day
ETHS education staff also works closely with Tennessee History Day state coordinators to share program information with teachers, sponsors, and students. Tennessee History Day is the state affiliate of National History Day.
Tennessee History Day 2016 was awesome...Check out our list of winners here!
Interested in participating? Have questions? Contact the ETHS Education Department for more information:
Lisa Oakley at 865-215-8828 or by e-mail
Check out the below National History Day National Gold Medal Documentary from East Tennessee High School Senior Emma Grace Thompson's "Rough in the Bunch: Appalachia's Rayon Girls Fight for the Right to Strike."
East Tennessee History Day Scholarships
Thanks to the generous support of Randy and Jenny Boyd, three East Tennessee high school students are  awarded scholarships every year for their excellence in research, analysis, and documentation for their  National History Day projects.
The East Tennessee History Day Scholarships are awarded to two students whose projects are on an East Tennessee topic and feature quality primary sources. First place is awarded $3,000 and second place is awarded $2,000. The East Tennessee History Day Business and Technology Scholarship is awarded to a student whose project is on a business and/or technology topic and features quality primary sources. The award for the Business and Technology Scholarship is $2,000.
For additional information, including instructions on how to apply, please take a look at the documents for the East Tennessee History Day Scholarship and the East Tennessee History Day Business and Technology Scholarship or contact Lisa Oakley at Oakley@eastTNhistory.org.
Check out our list of winners!
National History Day Teacher Workshops or Consultations 
East Tennessee Historical Society (ETHS) staff will provide free teacher workshops on the National History Day program. Schools and/or school districts are invited to schedule a workshop as an introduction to the NHD program and competition, or perhaps for more detailed nuts-and-bolts instruction, to go beyond the basic introduction to NHD to focus on researching and developing NHD projects (ETHS staff can model winning exhibit boards, documentaries, performances, and process papers with annotated bibliographies). If you are interested in scheduling a workshop, or just to talk more about NHD resources available in East Tennessee, please call Lisa Oakley (Co-Coordinator) at 865-215-8828 or e-mail oakley@easttnhistory.org. Let us know how we can help!
Upcoming Workshops
Taking a Stand in History Through the Oak Ridge Story
July 12, 9:00 a.m. - 4:00 p.m., East Tennessee History Center, Knoxville, TN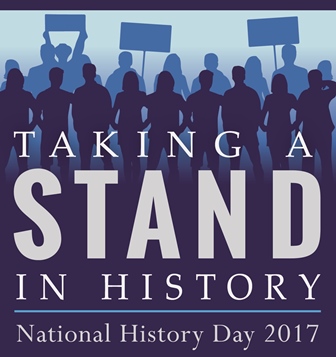 ETHS Staff and Joel Walker, an education specialist with the National Archives at Atlanta, with the support of UT-Battelle Oak Ridge  National Laboratory, will present a seven hour NHD workshop on the 2017 theme. We will give special attention to the Oak Ridge  story.  For  teachers new to NHD, the first session will be an introduction. We will then cover researching and developing a  topic/thesis related  to the  theme.