Teacher Workshops
The East Tennessee Historical Society offers a variety of teacher workshops in various topics, formats, and times.  All programs are rich in content and methods instruction and are correlated to meet or exceed state curriculum requirements.
East Tennessee Historical Society Workshops
Check regularly for changing Tennessee History and National History Day after school and Saturday workshops.
For district-level workshops:
Please contact Lisa Oakley, curator of education, to schedule a district in-service or other workshop for faculty groups. (865) 215-8828 or oakley@eastTNhistory.org
Teaching with Primary Sources MTSU Partnership:
Teaching with Primary Sources (TPS) workshops introduce teachers to the rich digital collection of documents, records, and photos available through the Library of Congress website.  TPS workshops are scheduled periodically and in various locations in the region and state.  Watch for notices and check back with us to learn about upcoming dates.
As the regional TPS facilitator, ETHS works under the direction of the Center for Historic Preservation at Middle Tennessee State University, who administers the workshops for Tennessee and is a state affiliate of the Teaching with Primary Sources program.
September 23 : Expanding the Vote
October 21: Immigration: The Creation of the American Melting Pot
November 18 : The New South: Industrialization and Labor 
December 2 : Introduction to Civics and Government
April 22 : Strategies for Using Text-Based Sources in the Elementary Classroom
June 8-9 : Using Text-Based Sources in the Upper Grades (both days required)
Workshops have limited seating so register today by emailing Lisa Oakley, oakley@easttnhistory.org or by calling (865) 215-8828.
Workshops are held from 9:00 a.m. - 3:00 p.m. at the East Tennessee History Center, 601 South Gay Street in downtown Knoxville (across from the Tennessee Theatre).  Materials, lunch, travel stipend and certificate of participation are provided.
University of Tennessee Department of History Partnership:
September 10 : 36th Annual Workshop for History Teachers. For more information, take a look at the brochure. 
This half-day program of lectures and conversation offers East Tennessee educators a chance to learn about the latest research from department faculty. It also provides a chance for high school and university teachers to share ideas about how to improve the teaching of history. Registration is $20. For more information or to register once the date is announced, contact Mary Beckley at mcopela8@utk.edu.
Humanities Tennessee Workshops
The East Tennessee Historical Society has partnered with Humanities Tennessee since 1989 to provide quality professional development for teachers across the region and state.
Tennessee History Highlights
Content and strategies will focus on 4th, 5th, 8th, and high school American history curriculum standards that relate to Tennessee's story. A special focus will be given to Tennessee's frontier, Civil War, industrialization and labor, and women's suffrage stories. Host community stories will also be featured. Please contact Lisa Oakley for more information or to register. 
September 16 : Discovery Park of America, Union City, 9:00 a.m. - 4:00 p.m.
October 10 : Metro Nashville's Robert Churchwell Museum Magnet Elementary School, 8:30 a.m. - 3:30 p.m.
October 28 : Museum Center at 5ive Points, Cleveland, 9:00 a.m. - 4:00 p.m.
Lesson Plans from past workshops can be found online at www.easttnhistory.org/education/teacher-resources   
 
Humanities Tennessee is the state affiliate of The National Endowment for the Humanities.          
2016 National History Day Teacher Workshops 
Would you like to learn more about how to introduce or enhance the National History Day program in your classroom?  We can schedule a workshop for teachers or come out to the classroom to discuss History Day logistics and explore this year's theme, "Taking a Stand in History." For more information on arranging a workshop or classroom outreach, please contact Lisa Oakley by e-mail oakley@eastTNhistory.org or by calling (865) 215-8828.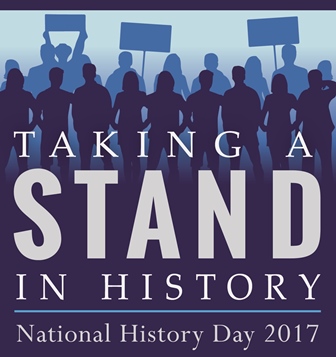 Teacher Workshop : September 13, 4:30 p.m. - 6:30 p.m.
Student Workshop: October 4, 4:30 p.m. - 6:30 p.m.
East Tennessee History Center, 601 S. Gay Street, Knoxville, TN
We will cover the basics of NHD competition briefly and then spend the majority of the workshop discussing refining topics and thesis statements related to the theme and covering key aspects of developing competitive NHD projects. E-mail Lisa Oakley to register or receive additional information.